If you have ever picked up a guitar you are likely very familiar with the name Van Halen, yet may not recognize the term "guitar tapping". Why the comparison?
Well, if you love Van Halen music you are actually more familiar with the guitar tapping technique than you might think. In fact, if it was not for the late-1970s and Eddie Van Halen the guitar world may not be quite the same today.
Van Halen is a master with fretwork and when he does pass away, the guitar solo for "Eruption" might arguably go down as his greatest contribution to rock music. The solo is worth noting here because it serves as the original groundwork for the guitar  tapping technique. If you understand how that solo is pieced together then you will also understand why you can really do some unique things with guitar tapping and how it works.
First, we should let you know that the term "tapping" is definitely misleading. It's a generic term for fretting notes with your right hand (or picking hand)* and not, like you often hear with some of the best bass players in the world, an advance technique where you actually slap the instrument.
What the guitarist is really doing is using the picking hand and its fingers to "tap" on a note with advance techniques like hammer-ons and pull-offs. You've probably heard of basic hammer-ons and pull-offs (if not, introduction below) but now you're just doing them with your alternate hand.
Hammer-Ons
Hammer-ons (like pull-offs) is simply an alternative way of playing a note without re-picking to play another note on a higher part of the same string. It's basically the old analogy of "kill two birds with one stone".
TRY THIS: First, fret the second fret on the third string with your first finger. Next, position your third finger just above the fourth fret on the third string but make sure it's not quite touching.
Pick the string, then, without picking, place the third finger firmly on the fourth fret. If you do this with enough force the note on the fourth fret should sound. Pretty cool, right?
Like anything, this will take a few days to get down so practice, practice, practice!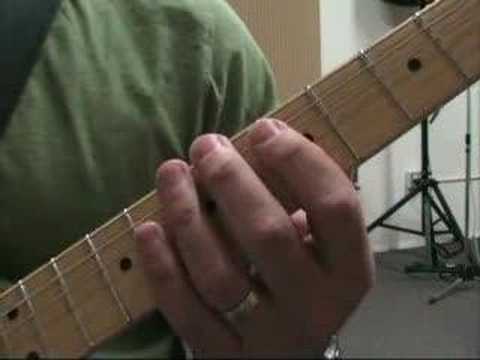 Pull-Offs
Pull-offs are pretty much the complete opposite of hammer-ons. You can do pull-offs by either A) Angling your hand parallel with the neck and pulling off in a downward motion or B) Angling your hand perpendicular to the neck as if playing the piano and pulling-off in an upward motion.
First, put your third and first finger on the third string. Fret the first note with your third finger and second note with first. Play the string with a pick and then remove your third finger while performing a subtle downward tug with the same finger. Listen carefully! Did you hear the note the first finger is fretting "ring out"? If so, great.
Again, practice until you can play pull-offs without the ring stopping after you remove your finger.
Time to Experiment…
By now you should have noticed that with a little practice the number of variations with hammer-ons and pull-offs are virtually endless. Best of all, change it up with the picking hand and the possibilities become even more diverse!
As a result, you can do a ton of experimentation and I don't know about you, but nothing is better than experimenting with your guitar. As always, understanding scales (which serve as the basis for all music knowledge) is a great place to start with multiple hammer-ons, pull-offs, etc.
*-left hand if you're left handed