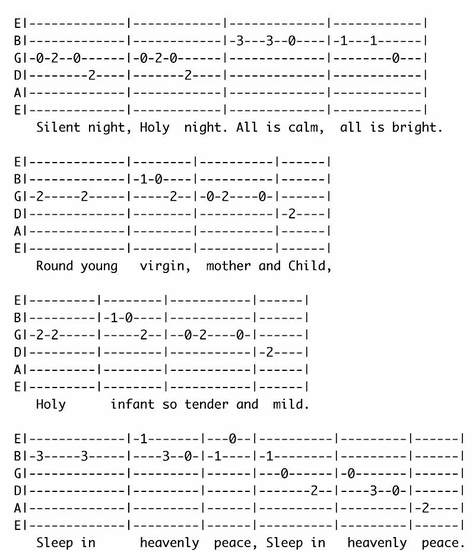 Guitar tabs have substantially progressed the learning curve that one needs to understand and learn to play their favorite popular tunes. Although most will associate the popularity (and thus its origins) of guitar tabs with the boom of the Internet, music tablature actually dates back as far as the Renaissance.
Tabs are a fantastic way of deciphering musical notation without needing the ability to read sheet music, because it can take a popular song, like Led Zeppelin's "Stairway to Heaven", and inform the guitarist on what strings they need to strum and where they need to fret. As a result of the simplified "sheet music", guitar tabs are the easiest way to learn a new song.
Unfortunately, guitar tabs are user-submitted and thus the accuracy of each tab should be questioned. Frankly, there are a lot of poorly composed guitar tabs that are not even remotely accurate. Therefore, by paying special attention to the site (best websites for guitar tabs listed below) as well as rating of each tab will clue you in as to the legitimacy of the guitar tab.
Ultimate-Guitar.com
Ultimate-Guitar.com prides itself on being the "#1 source for guitar tabs, bass tabs chords and guitar pro tabs". With over 300,000 guitar tabs and counting, Ultimate Guitar is one of your best (and biggest) resources for useful guitar tablature.
It's a pretty easy website for searching and finding the particular song or artist you need. In addition to the guitar tab database, Ultimate-Guitar is also a terrific site for all things music as they post a lot of great articles and interviews. They even have a few useful guitar lessons.
A basic search of even a remote band like Primus will bring up 420+ results so it's easy with the several different "versions" of each song to get overwhelmed. Consequently, it is important to pay special attention to the guitar tab's rating and number of comments. Readers can rate the accuracy of the guitar tab as well as comment with revisions, so this is your best option for quickly finding out the accuracy of the tab.
Songsterr.com
Songsterr does a really nice job of organizing their guitar tabs as you'll immediately find their database sorted by difficulty level on the homepage. For example, Pink Floyd's "Comfortably Numb" might be a brilliant song, but it's also extremely difficult to learn on the guitar. Thanks to Songsterr, you'll quickly notice that the tab is classified under "Advance" while equally great jams like Linkin Park's "Numb" and Bob Marley's "Redemption Song" fall under "Beginner" and are much more suited for beginner guitarists.
Users can also sort guitar tabs by the genre and even decade of release. Upon reaching a specific guitar tab, you will notice that like Ultimate Guitar, you not only have the ability to listen to the actual song, but also change up the mix (i.e. eliminate vocals), speed and more. Unfortunately, not all of these features are available for free so check out their rate plans if interested.
Like a lot of the top rated guitar tab websites, Songsterr is also available on the iPhone so it's really great for mobile users.
Guitar World Tabs
Similar to Ultimate-Guitar, Guitar World Tabs has a lot of amazing feature stories and interviews on the website. They're not just a guitar tab resource. The site is very well designed with a plethora of information and if you're still not satisfied, Guitar World even puts out their own monthly newsletter that you can sign up to receive for free!
The search function on the site is really easy to use as visitors can sort for basic things (guitar vs. bass), and even view the top-rated, most viewed and/or recently added guitar tabs with a click of the mouse.
What's really innovative about the specific guitar tab page is that the screen will auto-scroll (at a very slow pace) so you do not have to pause every few seconds, take your hands off the guitar and manually scroll down to read the next part of the verse or chorus.
—
You should be able to find just about any guitar tab on one of the websites listed above. We should note, however, that even though we consider Ultimate-Guitar, Songsterr and Guitar World Tabs the three best resources for guitar tabs even the top sites have a lot of poorly composed tabs. By paying special attention to the tablature's rating, comments, author history (does he or she post a lot? good overall rating?), comparing to other tabs (same song) you will vastly enhance your chance of learning from a legitimate guitar tab.