In the entertainment industry they sometimes say, "power is money."
In the alternative, modern rock, and metal genres of music – power chords are money. If you have money, you can rule the world. Power chords provide that raw, aggressive edge to your music. They're brash, bold, and daring. But did you know, that power chords (PC) are technically not "true chords"? What I mean by this, is that a chord is defined as a musical presence that utilizes three or more notes.
Technically speaking, power chords are not true chords. A chord is made up of three or more notes. "PC's" are only made up of two different notes. So, with that being said, it's now time to look at these "non-technical guitar chords."
A major chord is made up of the 1st, 3rd and 5th notes of its corresponding major scale. For example, take a look at the C Major Scale. The C Major Scale is made up of the following notes:
| | | | | | | | |
| --- | --- | --- | --- | --- | --- | --- | --- |
| C | D | E | F | G | A | B | C |
| 1 | 2 | 3 | 4 | 5 | 6 | 7 | 8 |
In order to play a C Major Chord, the guitarist would strum the 1st, 3rd, and 5th notes of the C Scale, or the notes: C, E, & G.
All Major Scales follow the same progression, which means that regardless of whether it's the C Major, A Major, or E Major – they all incorporate the 1st, 3rd and 5th notes of its corresponding major scale.
So, for example, you need to play a C Power Chord. Which notes do you need to play. All power chords use the 1st and 5th notes on the scale. As you'll note from above, the 1st note in the C Major is C while the 5th note of the scale G. Thus, to play the C P. Chord, the guitarist would simply strum the guitar with the C and G notes:
Despite popular opinion, power chords are not difficult to play. They may ring off this thunderous, complex sound in your earlobe, but these chords are accessible for both the advanced and beginner guitarist. If you are looking for some of the most popular PC's, try your hand at a few of these notoriously simple and common chords:
 
It's important to keep in mind that while power chords are easy and fun to play, the beginner guitarist too often gets caught up with the sound. Sure, they really pack a nice punch. But as previously stated, they are not "guitar chords." Learning to play complex three to four note chords will really expand your musical spectrum.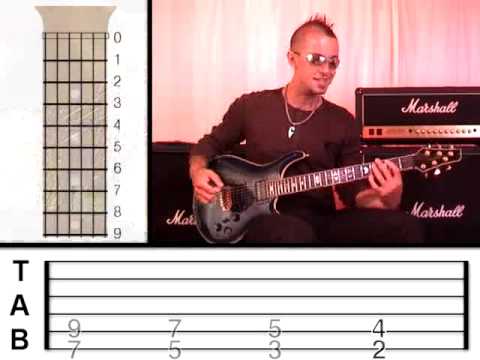 As always, the web provides numerous opportunities to expand your knowledge and learn about guitar chords. If you are an absolute beginner, check out this great "Power Chords for Dummies" explanation. Also, Guitar Allegiance provides a nice lesson for free and as always, Guitar Lessons Critic features a detailed review of some of the best guitar courses available.
Another useful reference is to begin with basic music theory and guitar chords. It is here where you will understand the many, many different chords available at your disposal.