Rhythm guitar is a technique and role that performs a combination of two functions:
To provide all or part of the rhythmic pulse in conjunction with singers or other instruments
To provide all or part of the harmony
As a result, rhythm guitar traditionally requires the guitarist to hold down a series of chords with the fretting hand while strumming rhythmically with the other hand. While everybody likes to play lead guitar, most bands need at least one rhythm guitarist (often more) and mastering rhythm guitar is easier than mastering lead guitar therefore allowing you to get into performing sooner. Also, if you want to sing and play guitar you will more than likely play rhythm guitar while singing.
In order to learn to play rhythm guitar you must understand these basic concepts:
Power Chords
Straight 5ths
Drop D Tuning
Drop C Tuning
Palm Muting
Traditional Barre Chords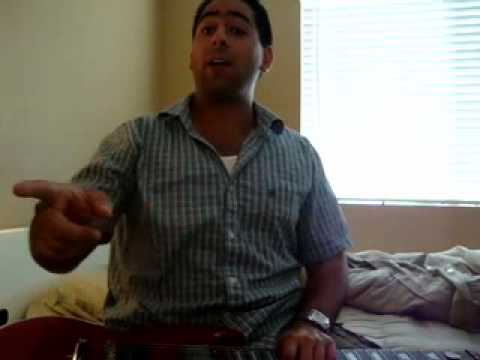 Power Chords
Power chords, like the name implies, provide a lot of energy for modern day music. The good news about power chords (also called "fifth chords) is they are very easy to play because the structure of the chord only requires the root of the chord and the fifth interval. Power chords are usually played on the electric guitar with distortion. They are a very popular element of rock music.
Straight 5ths
Straight 5ths represent a less common, but nonetheless useful power chord in your quest to master rhythm guitar.  Straight 5ths is essentially playing two strings on the same fret. As a result, the straight 5th provides the rhythm guitar with a more "deathly" sound.
Drop D Tuning
Some guitarists tune their E string down to D so that they can play power chords. Believe it or not but Drop D tuning has been used from Van Halen to Led Zeppelin and provides a deeper, darker sound. Thus, it's very popular with metal bands.
Drop C Tuning
Even heavier than Drop D tuning, Drop C tuning is a notorious rhythm guitar technique for metalcore bands such as Killswitch Engage and As I Lay Dying. Drop C tuning requires you to not only tune the lowest string to C, but all other strings down one note as well.
Palm Muting
Palm muting is another technique used often in metal. Any song that features an endless stream of grinding, chunky rhythm notes between the chords is what you would define as palm muting. Learn more about pulling off palm muting HERE!
Traditional Barre Chords
Traditional barre chords is a type of guitar chord, where one or more fingers are used to press down multiple strings across the guitar fingerboard (like a bar pressing down the strings), enabling the guitarist to play a chord not restricted by the tones of the guitar's open strings. Barre chords are also referred to as "moveable" chords.