They are great because they're brilliant.
The 100 Guitar Riffs (below) are brilliant for a reason. No one was able to quite capture the same guitar riff before them, they are still heavily intimiated to this day and ultimately they make the guitar what it is today.
If you love classic rock than chances are that several of your favorite guitar riffs fall under the list below. We love music because we love the instrument we play. It's that simple.
Check out our 100 favorite guitar riffs below and be sure to add your own in the comments section below…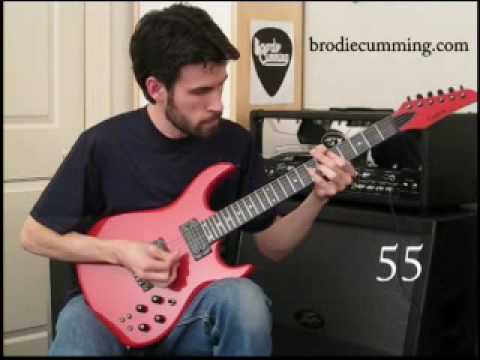 Smoke On The Water – Deep Purple
(I Can't Get No) Satisfaction – Rolling Stones
Sunshine Of Your Love – Cream
Layla – Derek And The Dominos
Oh Pretty Woman – Roy Orbison
Iron Man – Black Sabbath
Johnny B Goode – Chuck Berry
Heartbreaker – Led Zeppelin
You Really Got Me – The Kinks
Sweet Child O' Mine – Guns N' Roses
Purple Haze – Jimi Hendrix Experienc
Day Tripper – The Beatles
Walk This Way – Aerosmith
In-A-Gadda-Da-Vida – Iron Butterfly
Whole Lotta Love – Led Zeppelin
Sweet Home Alabama – Lynyrd Skynyrd
Voodoo Child (Slight Return) – Jimi Hendrix Experience
Paranoid – Black Sabbath
Crazy Train – Ozzy Osbourne
Back In Black – AC/DC
Foxey Lady – Jimi Hendrix Experience
Frankenstein – Edgar Winter
Aqualung – Jethro Tull
Bad To The Bone – George Thorogood & Destroyers
Brown Sugar – Rolling Stones
Summertime Blues – Eddie Cochran
Money For Nothing – Dire Straits
Jumpin' Jack Flash – Rolling Stones
American Woman – Guess Who
Wild Thing – The Troggs
Smells Like Teen Spirit – Nirvana
Black Dog – Led Zeppelin
Rebel Rebel – David Bowie
Roadhouse Blues – The Doors
Bo Diddley – Bo Diddley
Breaking The Law – Judas Priest
Runnin' With The Devil – Van Halen
Enter Sandman – Metallica
The Hellion/Electric Eye – Judas Priest
Outshined – Soundgarden
Eye Of The Tiger – Survivor
Hells Bells – AC/DC
La Grange – ZZ Top
Master Of Puppets – Metallica
Kashmir – Led Zeppelin
Sultans Of Swing – Dire Straits
Rusty Cage – Soundgarden
Ain't Talkin' 'Bout Love – Van Halen
Bring It On Home – Led Zeppelin
Man On The Silver Mountain – Rainbow
Panama – Van Halen
Maybellene – Chuck Berry
N.I.B. – Black Sabbath
Pinball Wizard – The Who
China Grove – The Doobie Brothers
Stranglehold – Ted Nugent
Ace Of Spades – Motorhead
Wipeout – The Surfaris
Paradise City – Guns N' Roses
Don't Fear The Reaper – Blue Oyster Cult
Five Minutes Alone – Pantera
All Day And All Of The Night – The Kinks
Up Around The Bend – Creedence Clearwater Revival
Bulls On Parade – Rage Against The Machine
Life In The Fast Lane – The Eagles
Start Me Up – Rolling Stones
Walk – Pantera
Welcome To The Jungle – Guns N' Roses
I'm Broken – Pantera
All Along The Watchtower – Jimi Hendrix Experience
Under The Bridge – Red Hot Chili Peppers
Working Man – Rush
Are You Gonna Go My Way – Lenny Kravitz
Pride And Joy – Stevie Ray Vaughan
The Boys Are Back In Town – Thin Lizzy
Whipping Post – Allman Brothers Band
Aenima – Tool
You Shook Me All Night Long – AC/DC
School Day – Chuck Berry
Born To Run – Bruce Springsteen
Honey Don't – Carl Perkins
Moby Dick – Led Zeppelin
Rockin' In The Free World – Neil Young
Wake Up Little Susie – Everly Brothers
Taxman – The Beatles
The Ocean – Led Zeppelin
Lola – The Kinks
Hangar 18 – Megadeth
Sharp Dressed Man – ZZ Top
Thunderstruck – AC/DC
Politician – Cream
The Trooper – Iron Maiden
I Feel Fine – The Beatles
Spirit Of Radio – Rush
Hallowed Be Thy Name – Iron Maiden
Man On A Mission – Van Halen
Fear Of The Dark – Iron Maiden
Raining Blood – Slayer
Scuttle Buttin – Stevie Ray Vaughan
Hysteria – Muse