Beginner Guitar Lessons
You have the guitar. You have the quiet room late at night. You have the energy, enthusiasm, and desire to become the next guitar master. A few weeks pass. The guitar is now sitting in the corner of the room collecting dust. You're discouraged and disappointed. You've nearly given up. What's happened?
Just hit the "Register Now" button and you will be on your way to dozens of Free Guitar Lessons. If you do not have a face book account you can sign you on the homepage at http://www.guitarlessonscritic.com
We cover a ton of beginner tips and then get started right into to blues, rock, classical, bass, tuning, the whole nine yards.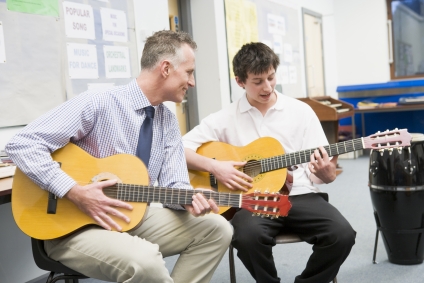 For many beginners, the answer is generally the same. There was a lack of a clear lesson to keep the guitarist focused and on the correct path. Unfortunately, beginning guitar lessons is the toughest part. The good news is: once you get into it and start learning consistently, you'll find that it starts to get easier & easier!
I honestly do not think you can learn to play a musical instrument alone without a clear lesson planned out by a talented and expert musician. The same holds true for the guitar. You can only "mess around" and play particular riffs for so long. It's not until you really get serious that you will also become a serious guitar player.
Beginner guitar lessons are the perfect way to stay on track and offer a way to progress at a steady rate that's both challenging and realistic. However, there is a catch...
Are there too many choices for guitar lessons?
There are so many options for beginner guitar lessons out there so it's tough to find the "right one." The good news is that there is more than one "right one." But you need to be able to separate the good from the bad.
Many people take private guitar lessons from an instructor, but I recommend NOT doing this...at least to start. Why, you ask? Well, mostly because of these three simple things:
COST. Private lessons average about $16/session (30 minutes), 2x/week, which works out to $150/month or more!


I believe it's better to get exposure to a source that walks you step-by-step through the entire process, without bias toward certain genres or styles, and without the "human effect" (if an instructor is in a bad mood or feeling lazy, you still drop the $15-$20 for that 30-minute lesson, but you won't be able to learn as much)!


Many times, it's difficult to really get the 1-on-1 attention you want, because 30 minutes just isn't enough time and the instructor usually teaches dozens of students.
Personal beginner guitar lessons & home study courses are terrific because they're self-paced and cheaper than taking private lessons from an instructor (can cost $150/month or more!). You'll get as much out of them as you put in. These resources are also as strong as a private lesson would provide and come at a much cheaper rate.
Learn and Master Guitar is one of my favorite home study courses, and I recommend it to anyone just getting started. It's basically a course that you would learn through a private instructor or class, except for the fact that it's a one-time fee and much cheaper. If you want to do it right, I suggest you try Learn and Master Guitar.
These courses are ideal because they generally provide a DVD and CD in correlation with the book. That way you can learn not only by reading, but also visually through the DVD or CD.
Learn & Master Guitar is more than just a beginner guitar lesson. Sure it provides plenty of lessons, but it goes above and beyond that. It also provides all the information, proper techniques, and cool tricks you need to master. That said, it's not free...though the lead guitarist in my old band paid about $150/month for his lessons, this entire course (which takes at least 6 months to work through), is $119 ONCE!
How about 24 FREE beginning guitar lessons?
If you would like to try something even cheaper, check out GuitarTricks.com. There are 24 beginner guitar lessons posted on the site and they're all FREE of charge. I highly recommend the $14.95/month option (I'm a member, along with 10,000's of other guitarists), but either way I would go grab your 24 freebies. =)
That's the best web site I could find in terms of beginner guitar lessons and lessons that are all completely free.
While Guitar Tricks and Learn and Master Guitar are great places to begin, if you would like to do some further research, here is what you should look for in great beginner guitar lessons:
Reputable author.
Lessons start out easy and gradually get more difficult.
Wide range of lessons and skill levels.
Allow you to play popular songs you are familiar with.
Easy to follow and make sense.

Provide bottom written music and guitar tabs

Teach you exercises, chords, scales & advanced techniques

.

I have found that while there are plenty of beginner guitar courses there are relatively few reputable and strong beginner guitar lessons. After trying quite a few courses myself, I found that many of them were not worth the money.
So, if you want to begin really learning guitar, I suggest you start out with Guitar Tricks and Learn & Master Guitar.
Good luck in your playing.
Kyle
P.S. - In the end, I do NOT recommend paying for private guitar lessons if you're a beginner. If you could afford to pay $150/month or so every month, then it will help you more to start with the 24 FREE video lessons from Guitar Tricks, then invest in Learn & Master Guitar to continue your training for far less money than paying for lessons every month!