Blues Guitar Lessons
So you're looking for blues guitar lessons, huh? Great choice! Blues is one of the coolest genres to learn on guitar, since it is the foundation for so many other styles. Unfortunately, taking private blues guitar lessons can be very expensive ($16/30-minute session works out to about $1,500/year, maybe more, depending on the teacher).
If you want high-quality blues guitar lessons that will really help you improve, without spending $1,000's/year learning, check out the detailed side-by-side comparison of the top 3 most popular blues guitar courses below:
JamPlay
Learn & Master Blues Guitar
Playing Through the Blues
Overall Rating
9.8/10
8.9/10
8.2/10
Lesson Quality
Value for Price
Support
Teaching Style
Lesson Variety
Ease of Use
Entertainment
Visit Site
Product
272+ Video Blues Lessons, Online Community, Tuner, Chord & Scale Libraries, 24/7 Support & Jam Tracks
6 DVD's, CD, Interviews, eBook & Forum
5 eBooks, Videos, Jam Tracks & Blog
Instructors
46
(6 Blues Instructors)
1
1
Beginner
Intermediate
Advanced
Song Lessons
Discounts:
25% OFF Coupon:
86C6CC
Lowest Price
$19.95/month
$99.00
$47.00
Check it out:

Overall, in my opinion, you'll get the most bang for your buck if you take Blues guitar lessons online. That said, getting 1-on-1 attention from a Blues teacher is tough to beat, and online lessons need to come with support and feedback (and be created by Blues guitarists) to make it all work out well. To me, watching DVD's and playing along with CD's can only go so far. I like the the interaction & support I get at JamPlay.com, and the fact that is saves me about $1,200/year.
---
Free Blues Guitar Lesson Video Series
Want to see some sample blues guitar lessons from JamPlay? I just finished putting together a free video playlist of one of my favorite lessons from Michael "Hawkeye" Herman, an excellent Blues guitarist and instructor. Enjoy!
Click the play button below to start your free blues guitar lesson (the right & left arrows cycle through the lessons):
Want to continue this series? I got permission to post this video because I belong to an online community for guitarists called JamPlay. The videos above are just a small sample of the 272 Blues guitar lessons that come with a Pro membership, and they have Jazz, Rock, Country, Metal, Classical and more. Sign up to get access to everything now:

SAVE 25%: I found a coupon code you can enter to get 25% off your first month. Enter 86C6CC at checkout to save $5 on 30 days of unlimited access to 272 blues lessons (and growing), support, and 1,000's of other video lessons!
---
Best Blues Guitar Lessons Website

Alright, so hopefully that's helped you decide if taking Blues lessons online is right for you. If so, there are dozens of options out there, but I'll be honest: most of them suck. Some are outright scams, and others are just low-quality. This one is solid.
There are some other cool guitar communities that cover the fundamentals, but don't offer Blues lessons specifically. These sites are great for learning the basics, but if you want to learn Minor Pentatonic scales, 12-bar patterns, how to play classic Blues songs, and how to solo with some sweet Blues licks, you're out of luck with these websites.
After subscribing to two online communities that do offer blues lessons, my favorite of the two is JamPlay.com.
JamPlay has 4 instructors that focus on Blues, and they're all professional musicians that have a ton of experience with Blues guitar! There are over 1,000 video lessons in total, and 272 videos just for Blues (with more added weekly). They also have a huge forum where you can talk to other guitarists, and get your questions answered by the pros.
It's also pretty crazy that they charge $19.95/month for unlimited access to all the lessons and guitar tools. Compared to taking lessons a couple times each week for $15 a pop, you can see how this site could save you $1,000-$2,000/year.
If you're serious about learning Blues guitar, and you want to save some cash along the way, JamPlay is your best bet.
Oh yeah, and I found a coupon code you can enter to save 25% ($4.99) on your first month: 86C6CC
---
History of Blues Music
Over the last century, it has been said many times that Blues is the foundation of popular genres such as Rock & Roll, Jazz, Rap, Country, Hip Hop, and even Pop in general. Its simple patterns, deeply-passionate lyrics, and moving rhythms do more than make you want to dance or sing-along; Blues makes you think, about the good things and the bad.
It's this powerful combination of music and poetry, evoking emotion through words and rhythm alike, that has made Blues a favorite style of guitar, and music in general, for countless music-lovers since the early 1900's when it began.
Blues music is commonly characterized by its "AAB", "1-4-5", and "12-Bar" structure:
AAB is the poetic pattern of lyrics, meaning one line is repeated (A), then a new line is sang once (B)
1-4-5 stands for the chord changes found in Blues (tonic, subdominant & dominant)
12-Bar simply means there are 12 measures to a song or pattern
Another element typically found in Blues today is a focus on guitar solos. This is part of the reason so many aspiring guitarists are attracted to this style: there's not much cooler than soloing in Blues.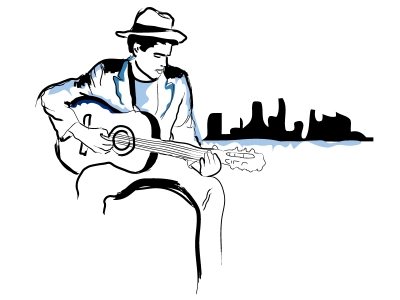 The roots of Blues are African American worksongs, folk music, and spiritual songs. Though some of the rhythms and influences come from Africa, the standard AAB form mentioned above is said to have originated in the United States.
What we think of as Blues today is not too far off from its original form, though it has gone through a number of transitions. In the very beginning, Blues was considered a "country/delta" style, with the cliche old black man playing a shoddy guitar or harmonica, singing about his sorrows. This was typical at the time, but the style progressed from Son House to Louis Armstrong by moving into more Urban settings (namely New Orleans and Memphis) in the 1920's.
Decades later, in the 1950's, B.B. King, Buddy Guy, and Muddy Waters came on the scene with a simple variation of Delta Blues: they added Electric guitars and heavier beats (more focus on percussion).
This attracted an even larger crowd, including the likes of Elvis Presley, who is believed to have "converted" Blues to Rock & Roll. This transition led to a number of musicians cranking up the volume to yet another level, with even heavier guitars, including Eric Clapton, Led Zeppelin, and the Rolling Stones, among others.
All in all, Blues is a fantastic style to learn on guitar, as it will never die, and it is such a powerful and emotional form of music. It helped shape music in America, and its rich history lives on in countless songs written today.
Now, as for learning to play the Blues on guitar, it's crucial that you learn from someone who has true experience as a Blues musician, NOT just your typical guitar instructor down the street. This is where JamPlay.com comes in:
JamPlay has 4 professional Blues guitarists that have created 149 video lessons for Blues alone (There are over 300 hours of lesson in total, with more added weekly)! Add to that the Blues scale library, the Beginner - Advanced acoustic & electric lessons, the chord reference library, the members-only forum and the solo jam tracks, and JamPlay is hands down the best way to learn Blues guitar...especially considering it's only $19.95/month for unlimited access!
Oh yeah, and don't forget to enter 86C6CC as your coupon code to save 25% on your first month.
Conclusion
Taking blues guitar lessons is a fantastic idea, especially if you are looking to improve your soloing skills. I hope this article and intro lesson video helped you decide if blues is for you.
To sum it all up, I'd highly recommend taking lessons from someone who has been playing Blues, preferably professionally, for years. It may sound obvious, but there are literally 1,000's of aspiring musicians that pay an inexperienced instructor every day, just because they think they're getting a "good deal", when in fact they're losing out big time.
If you're serious about learning blues guitar, invest in some lessons that will actually help you grow into the Blues musician you really want to be. If you want to save some cash, the only alternative I recommend over private lessons is a website called JamPlay.com.
JamPlay offers some free lessons to try it out, so give that a shot either way. Then, if you want to join enter the coupon code 86C6CC to save $4.99 on your first month:

Disclosure: I am not a professional Blues guitarist. The article above is my opinion, and is only meant to help my readers find the best blues guitar lessons for them. If, because of the helpful content provided here, you decide to invest in a course through a link on this page, I will receive a commission for referring a friend. This is how I fund this website without advertising. Thanks so much for your support!