Amazing Guitar Secrets Review
Amazing Guitar Secrets is a course meant for beginner & intermediate guitarists, created by Dan Denley.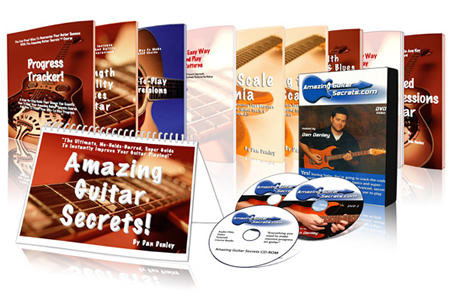 The course consists of 2 DVD's, a 401-page book, a CD-ROM, and 40 MP3 jam tracks. The quality of the lessons is respectable, and it covers the majority of what a complete beginner would need to learn the basics of playing guitar.
While it's a solid course overall, Amazing Guitar Secrets received a rating of 7.1/10, which is significantly lower than a similar course called Learn & Master Guitar.
If you're looking for the best possible course to get started with, and you'd prefer a home study DVD & Book package, Learn & Master Guitar is a better investment.
However, Amazing Guitar Secrets is quite a bit cheaper, and has just added an option to pay only $49 for the 2 DVD's and downloadble versions of the other lessons & book. This is a much cheaper alternative, and a good deal, especially if $50 is in your price range, and $149 is not. If you're buying for a beginner, Dan Denley's new $49 option is a good choice:

Want to see how Amazing Guitar Secrets stacks up to the rest? Compare it to the most popular guitar courses available:
JamPlay
Learn and Master Guitar
Jamorama
Amazing Guitar Secrets
Overall Rating
/10
/10
/10
/10
Lesson Quality
Value for Price
Support
Teaching Style
Lesson Variety
Ease of Use
Entertainment
Learn More
Read Review
Read Review
Read Review
Read Review
Product
Online Community & 1,000+ Videos
DVD's, Book, CD's & Forum
PDF's, Videos & Software
DVD's, CD's & Workbooks
Delivery
Instant (Online)
3-14 Days
Instant (Online)
3-10 Days
Guarantee
7-Day, 100% Money-Back
60-Day, 100% Money-Back
60-Day, 100% Money-Back
90-Day, 100% Money-Back
Instructors
41
1
1
1
Beginner
Intermediate
Advanced
Song Lessons
Discounts
25% OFF Coupon:
86C6CC
On Sale:
Save $100
Lowest Price
$19.95/month*

$249

$149
$49.95

$97

$49
Check it out: